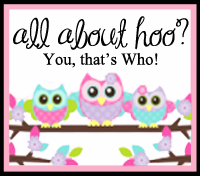 For her "all about hoo" Tuesday Linky Party!
Here are this week's questions:
1) Are you a mom? And if so, how many kids do you have?
Yes, I have two adorable children, Isabella 8 and Francesco 6.
2) What is your most favorite thing about your mom?
I love that my mom is a genuine, caring & thoughtful person..also she is a fantastic grandma...
3) Name 3 of your favorite things that you have done with your mom.
great vacations, awesome shopping trips, and we love to visit relatives
4) Do you have a special gift to give your mom? If so, what is it?

Ha Ha

my mom is

obsessed

with Pandora Jewelry.

( but I'm not saying anything else...)

5) What are your plans for Mother's Day?
I'm hoping for a sweet brunch, special gift, and lots of handmade cards!
MAKE SURE YOU LINK UP, AT MOMMY & ME CREATIONS & Join The "mommy" fun!